22Brew: Coffee Cup Awareness
You are here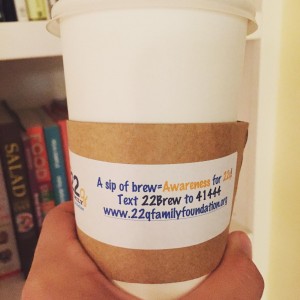 It's estimated that Americans purchase over 200 million cups of coffee every single day from shops around the country.  What if we told you those cups represented 200 million opportunities to raise awareness for 22q?  Recently, we came up with the idea to reach out to a local coffee shop (Surf City Coffee) to see if they would be willing to help us spread the word about the most common 'rare' disorder you've never heard of!  By affixing our "awareness labels" to the handy little sleeves that keep you from burning your fingers, each cup they would sell would turn into a billboard for 22q and for The 22q Family Foundation.  What we've found is that they were more than willing and excited to partner!  In return, we would return the favor by spreading the word and supporting the local coffee shops in our community.  Thus, the "22Brew: Coffee Cup Awareness"
We are asking YOU to join us in taking advantage of as many of these 200 million awareness opportunities as possible!  
Step 1: Reach out to local coffee shops to see if they'd like to participate (Feel free to use this introductory letter)
Step 2: Request a box of their coffee cup sleeves
Step 3: Print labels (size 5162) using our template (Found Here) 
Step 4: Affix the labels to the sleeves and return to the coffee shop
Step 5: Celebrate the fact that you just raised awareness for 22q
Because these coffee shops are helping us out, please send the names of any participating shops to info@22qfamilyfoundation.org
Use the hashtag #22Brew on Facebook, Instagram, and Twitter!