What is the 22q Mystery Tour?
You are here

Program Details: From Colorado Springs to Fenway Park, at gas stations and rest stops from the Mississippi River to Cape Cod, wherever the colorful bus labeled "22Q Mystery Tour" appears, people ask, "What is this about?" And that is precisely what we want them to do until that time when the general population has obtained a "common knowledge of 22q.
This grassroots mobile awareness campaign for 22q Deletion Syndrome was born out of three simple needs:
Driving awareness of this very common 'rare' disorder was priority #1.

Our desire to meet and understand the 22q community of families that we aim to serve.

A keen sense of fiscal responsibility, sprinkled with imagination.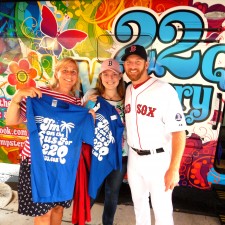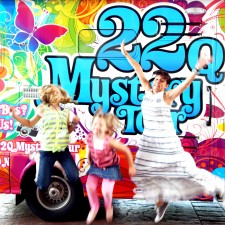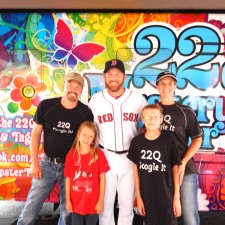 We asked ourselves how could we meet families across the country who were experiencing different 22q diagnostic odysseys so that we could gain insight to determine how best to allocate our resources. Also, we sought to collect information and resources for 22q with the goal to promote the availability and existence of those services. The 22Q Mystery Tour has provided to be an inexpensive means of travel for much of the foundation's activities, in lieu of airline tickets, rental cars and hotels.
Why is this important? The 22Q Mystery Bus has been spotted at children's hospitals, international medical conferences, summer camps, 22q community retreats, art festivals, runs, walks, schools, ribbon cuttings, parades, concerts, and it spent an evening at Fenway Park! Our goal is to briefly explain a little bit about 22q Deletion Syndrome, hand out basic information so that every parent gains some insight into this hard to recognize condition.
This bus also helps give families affected by 22q a sense of pride. The 22Q Mystery Tour bus brings hope to the 22q community and reminds them that we are ALWAYS driving awareness.